Bring the Tasting Room Directly to You
Digital Tasting Experiences
Online Wine Tasting from ParaduxX
Take a moment to envision the rolling hills, picturesque vineyards, exceptional landscapes and unfiltered light of Napa Valley. The varied terroir of this region produces some of the best wines in the world, and we are thrilled to share the opportunity to experience them through a virtual wine tasting.
Host a Virtual Wine Tasting Experience
Let us host your engaging, social event with a virtual wine tasting. Wine tastings are perfectly suited to celebrate birthdays, reunions, company events like happy hours, team-building and more with colleagues, friends and family.
More than a video call, this is a fun, interactive experience to learn about our stylish Napa Valley wine blends with a group in a comfortable setting of your choosing. Gather virtually as we highlight our grape varietals, regional distinctions, winemaking, tasting notes and more by your host, one of our wine specialists. Participants require no previous wine knowledge to enjoy! Like our winemaking, we embrace a freedom to explore with curiosity.
Fill out the Virtual Tasting Form Below to Book Your Wine Tasting Event.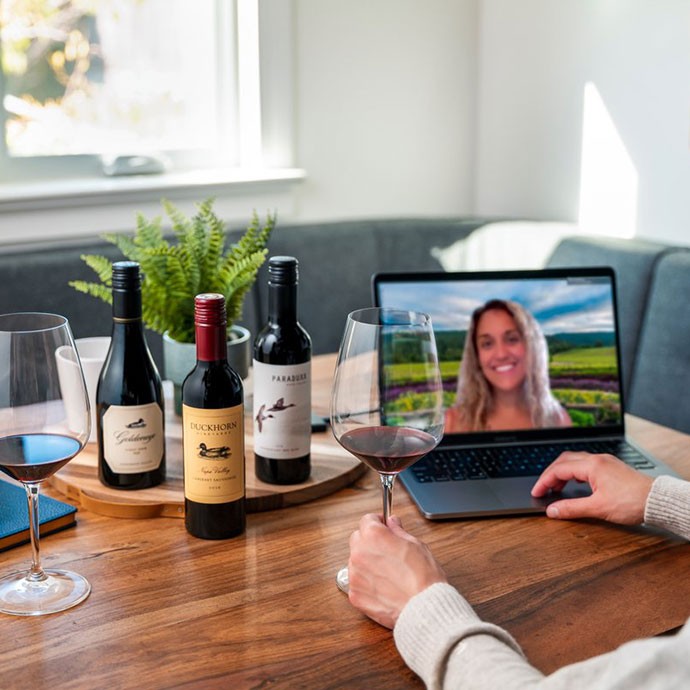 How It Works
What to expect from your Paraduxx virtual wine tasting experience.
We have curated packages to meet your needs and will work with you to select from existing options or build your own.
Choose your wine tasting package from our exquisite portfolio of Current Releases and unique bottle offerings.
Schedule your virtual wine tasting.
Invite your guests for a memorable virtual experience they're sure to love!
Let us handle the details:
Guests will receive their wine delivery before the scheduled event.
We'll share a unique link via Zoom prior to your virtual tasting.
Typically, guests taste 3-6 wines during their experience, and the event lasts 45-90 minutes depending on the number of wines selected and the dynamic of the group.
Contact us by Filling out the Virtual Tasting Form Below to Create This Unique Experience.
Frequently Asked Questions
The answers to the most frequently asked questions.
01
When can I book a virtual wine tasting?
Wine tastings can be booked anytime with advance notice with a minimum of two weeks in advance to allow for wine shipment.
02
Which wines can I select from?
Our most popular option, the following half-bottle wines (375ml) are available.
2019 Goldeneye Anderson Valley Pinot Noir
2019 Paraduxx Proprietary Napa Valley Red Wine
2019 Duckhorn Vineyards Napa Valley Cabernet Sauvignon
For the Paraduxx lover, choose from our current release (750ml) wines:
2021 Paraduxx Napa Valley Rosé
2019 Paraduxx Proprietary Napa Valley Red Wine
2019 Paraduxx Pintail Blend Napa Valley Red Wine
and more!
Additional wines are also available. Our wine specialist will work to assist with your selection.
03
What platform do you use to host virtual tastings?
We use Zoom for our tastings, but we are flexible to join another platform if your group prefers.
04
Interested in an in person event?
For additional information, please contact us at (707) 945-0890 or email reservations@paraduxx.com to make arrangements for this experience.
Please note all participants must be over the age of 21.
---
We care about privacy. Personal data inquiries: Paraduxx.com/Privacy-Policy or 1-866-473-7059