Featured Press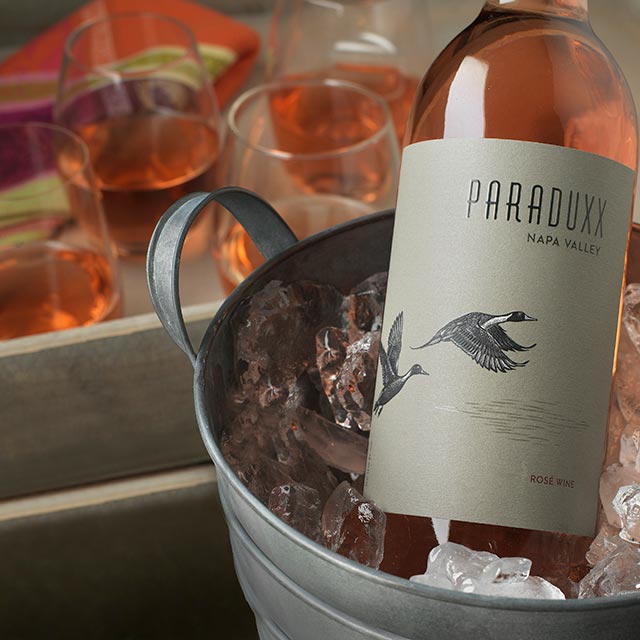 Wine Enthusiast - 90 Points
2016 Napa Valley Rosé
Pretty pink in color, this wine is inviting in aromatics, offering a depth of fresh strawberry and watermelon... Read More »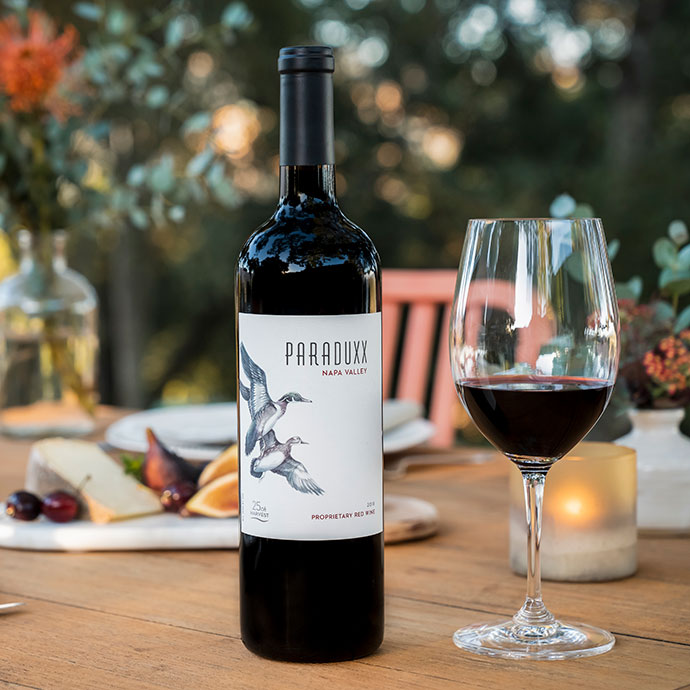 Wine Spectator - 90 points
2018 Proprietary Napa Valley Red Wine
Outstanding - a wine of superior character and style... Read More »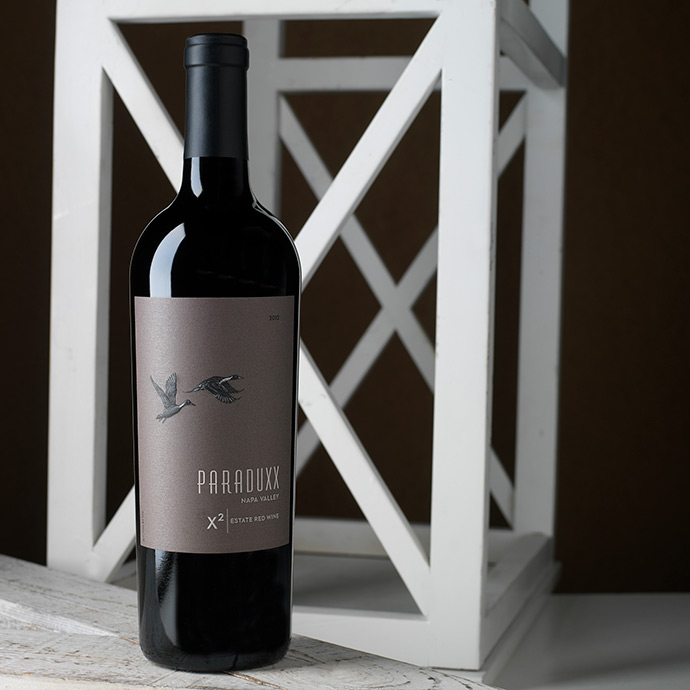 Wine Enthusiast - 92 Points
2013 X2 Napa Valley Red Wine
Leather saddle and robust tannin is accented by dried herb, espresso and smoke, making for a burly... Read More »
---
Napa Valley Vintners Website
June 2023
Symphony in White: Napa's White Wine Blends
Blends aren't just an addition to the Paraduxx portfolio; they are the winery's raison d'être. Its two white blends include Viognier with Chardonnay and a blend of Riesling, Gewurztraminer and Pinot Gris. Winemaker Cardiff Scott-Robinson shares, "Here at Paraduxx, we only make blends, so making a white blend was just what we were going to do. Plus, they are fun to make."
---
Wine Spectator
August 2021
2018 Proprietary Napa Valley Red Wine - 90 Points
Outstanding - "This delivers a blast of violet, cassis, kirsch and black licorice notes all sewn together with a brambly thread. The flavors stay nicely in lockstep as they drive through the juicy finish. A crowd-pleasing style. Cabernet Sauvignon, Zinfandel, Petit Verdot, Petite Sirah, Syrah, Cabernet Franc and Malbec. Drink now through 2028."
---
James Suckling
February 2020
2017 Proprietary Napa Valley Red Wine - 90 Points
Outstanding - "Aromas of dried wood and red berries here with eucalyptus and red plums. The palate has a soft, approachable and creamy feel with sweet red-plum flavors. A blend of Cabernet Sauvignon, Merlot and Zinfandel."
---
The Advocate
April 25, 2018


LSU grad making name for himself in world of wine

Don LaBorde is all smiles these days. His Paraduxx wines, part of the Duckhorn Wine Co. portfolio, are receiving high marks from Wine Spectator and are fast becoming a favorite among wine lovers in his home state of Louisiana.
---
San Francisco Magazine
September 12, 2017


From Grape Stomps to Circus Acts, Six Ways to Celebrate the Harvest in Wine Country

Stomp grapes with your mate or hit the farm with the fam; it's the best time of year to party in wine country. Here are six of the best harvest parties in Napa and Sonoma this fall:

Paraduxx Harvest Grape Stomp
October 7 | 2– 5pm
$100
Paraduxx boasts complex, powerful, and smooth red blends. A serious place with serious wines and serious fans, Paraduxx lets its hair down during harvest time, so you can get grape juice all over you as you stomp grapes, play corn hole, and eat messy barbecue. You'll also be able to try newly-released wines and sample some of the next vintage right out of the barrel.
---
Wine Enthusiast
September 2017


2016 Napa Valley Rosé - 90 Points

Pretty pink in color, this wine is inviting in aromatics, offering a depth of fresh strawberry and watermelon atop a substantial mouthfeel of body and weight. It finishes balanced and dry.
---
Wine Enthusiast
June 2017


2014 X2 Napa Valley Red Wine - 92 Points

A blend of 85% Cabernet Sauvignon, 10% Zinfandel and 5% Petit Verdot, a block and barrel selection of the producer's best lots, this is a well-made, impressive wine. Leather saddle and robust tannin is accented by dried herb, espresso and smoke, making for a burly explosion of blackberry and cherry.
---
James Suckling
May 5, 2017
2014 Proprietary Napa Valley Red Wine - 93 Points
Extremely floral and beautiful with crushed-raspberry and rose-petal aromas. Medium body, super-integrated tannins and a fine texture. It's tight and focused. Drinkable now but will be better in two or three years.
---
San Francisco Magazine
February 1, 2017


Six Wineries Where You Don't Just Taste the Wine, You Actually Make It

Much of the artistry of being a winemaker is knowing what grapes to blend, and how much. The reason you like most of the wines that you do often comes down to those proportions. (Grapes can, of course, be mixed into wine blends right after the crush, but most blending happens months after harvest.) And since no one knows better what you like than you, why leave this all-important process to the experts? Take matters into your own hands and head to one of these six wineries, where you can make your own blend and, in most cases, walk away with a bottle—or a case. (All are by appointment only.)

Paraduxx
The Blend Experience, $65
In Napa, Paraduxx makes highly acclaimed, complex blends that include cabernet sauvignon and zinfandel on the red end and viognier and chradonnay on the white end. Paraduxx's hour-and-a-half blending sessions are among the most affordable—in part because you're not taking home any wine. But that won't stop you from tasting: You'll be sipping along the way. You'll be guided through the process of mixing and blending while you learn the basics of what makes a good blend, the background of the grapes, and history associated with different blends and varietals. And if you're not too tipsy by the end of class—hopefully you've been spitting—you can savor the final blend.
---
The Colorado Gazette
July 6, 2016
Value of blending displayed in many wine styles
Most wines are blends of multiple grapes from various vineyards, even those varietally labeled. And more wineries are featuring wines specifically as blends.
The consumer survey company Nielsen has identified a trend toward more red wine blends, calling them "the craft beer of the wine category."
For many, the Bordeaux formula of cabernet sauvignon, merlot, cabernet franc, malbec and petit verdot is the template. For others, Italy's "Super Tuscans" are the benchmark, though usually substituting zinfandel for sangiovese. Finally, some mix and match miscellaneous grapes to achieve a desired style.
While the Cuvée series uses Bordeaux as its reference, Duckhorn Winery's Paraduxx project emulates Super Tuscans.
- 2013 Napa Valley ($48) - mostly cabernet sauvignon, with merlot, zinfandel and petit verdot - has strong tobacco, mint notes and solid tannins.
- 2012 Atlas Peak ($80) - 65 percent cabernet and 35 percent zinfandel - features firm structure, bright berry fruit and a touch of spice.
- 2012 Rector Creek Vineyard ($80) - 70 percent zinfandel and 30 percent cabernet - is lively and focused.
- 2012 X2 ($95) - 90 percent cabernet and 10 percent zinfandel - is intense and complex.