Skirt Steak with Chimichurri Sauce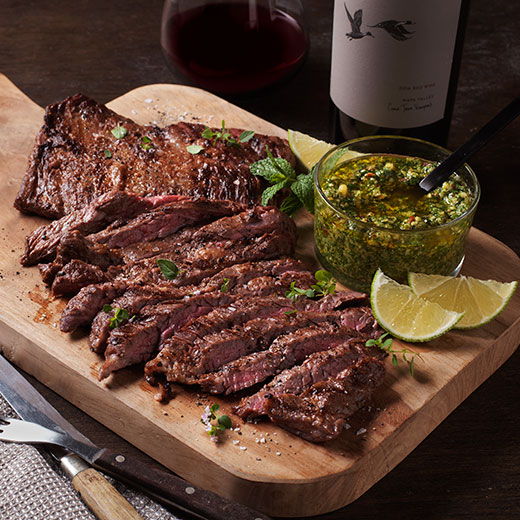 Yield: 4-6 servings
Prep: 2 hour | Cook: 15 minutes
Total Time: 2 hours and 15 minutes
Juicy and delicious, intensify the flavors of Argentine cuisine by pairing this skirt steak with chimichurri sauce with the bold red blend wines of Paraduxx.
Ingredients
Skirt Steak:
1½ - 2 lbs skirt steak marinade
1 tsp paprika
1 tbsp fresh oregano - chopped
2 garlic cloves - minced
¼ cup olive oil
Pinch of chili flakes
Salt and pepper
Chimichurri Sauce:
1 cup parsley
½ cup cilantro
½ cup chives
2 tbsp mint
2 garlic cloves
2 tbsp lemon zest
1 tbsp lemon juice
Pinch of chili flakes
¼ cup roasted almonds
½ cup olive oil
Preparation
Skirt Steak:
Mix all ingredients together and brush on both sides of meat. Cover and let marinade for 1-2 hours or longer if you have time.
Heat grill on high for 5-7 minutes until hot. Make sure to turn on all sides of grill.
Chimichurri Sauce:
Place the almonds and garlic in food processor and pulse 3-4 times then add remaining ingredients. Taste and adjust seasoning if necessary.
Place in small serving dish and set aside until meat is ready, or refrigerate until ready to use.
Take a look at our recommended wine pairing for this recipe below.
Pairing Recommendations - Red Blend