Crispy Sage with Brown Butter Mushroom Pasta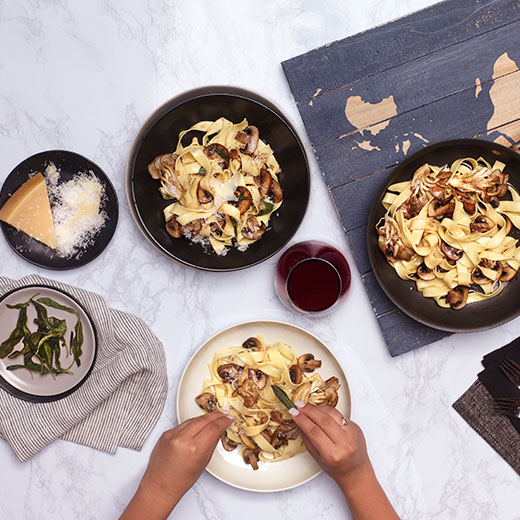 Yield: 4-6 servings
Prep: 5 minutes | Cook: 25 minutes
Total Time: 30 minutes
Simple yet delicious, this crispy sage with brown butter mushroom pasta paired with any Paraduxx red wine blend and makes the ideal date night recipe.
Ingredients
2 large shallots - sliced
3 garlic cloves - chopped
½ cup fresh sage leaves - about 25-30
10 oz gourmet mushrooms - oyster, maitake, trumpet, brown clamshell - sliced or divided
10 oz cremini mushrooms - cleaned and sliced
½ cup grated parmesan cheese
8-10 tbsp butter
Olive oil
1 lb fettuccine pasta
Preparation
Heat a large pot of salty water to boil pasta. Cook pasta according to package directions. Reserve ½ cup pasta water when draining.
In a small 6-8 inch skillet heat butter over medium (adjust if too hot) when bubbling add 8 sage leaves - cook until crispy 2-3 minutes, remove with slotted spoon and rest on plate, continue until all sage leaves are crispy.
Continue cooking butter until brown and nutty smelling. Watch carefully so not to burn it, set aside.
Add 2 -3 tablespoons of olive oil to a medium skillet and heat over medium high add mushrooms, garlic, shallot, salt and pepper and cook 5-7 minutes until mushrooms have released their juices.
Take off heat. Toss hot pasta with mushroom mixture.
Heat brown butter quickly and toss with pasta, add half the cheese, toss.
Add some of the sage to the pasta. Serve immediately.
Garnish with remaining sage leaves and parmesan cheese.
Take a look at our recommended wine pairing for this recipe below.
Pairing Recommendations - Red Blend