Coffee and Ancho Rubbed Lamb with Lemony Gigante Beans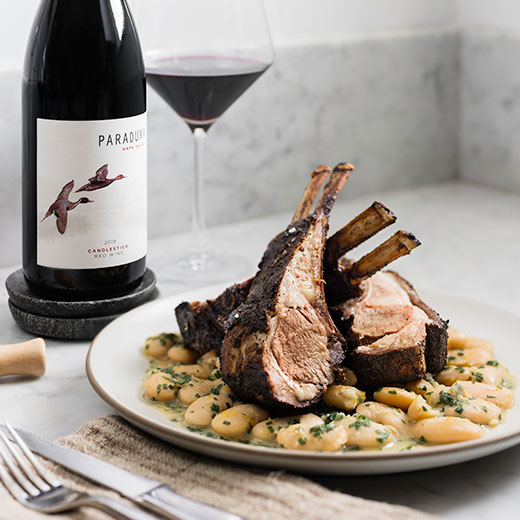 Yield: 2 servings
Prep: Overnight and 20 minutes| Cook: 1 hour
Total Time: 1 hour and 20 minutes
Gigante beans with plenty of fresh parsley and lemon zest offer the perfect foundation for sapid, spiced lamb. Paired with the meaty, herbaceous and dark notes in the Paraduxx Candlestick red blend complement everything happening on this dish, making it the perfect date night recipe.
Ingredients
½ lb dried Gigante beans (also called Corona beans)
1 carrot
1 stalk celery
1 yellow onion
1 bay leaf
2 tbsp finely ground coffee
1 tbsp ancho chili powder
2 tsp salt
1 rack of lamb
2 tbsp unsalted butter
1 fresh lemon, for zest and juice
¼ cup freshly chopped parsley
Salt
Extra Virgin Olive Oil (EVOO)
Preparation
Preheat oven to 375°F degrees.
Soak the gigante beans in water overnight before cooking. To cook, place the soaked beans in a pot with cold water and a liberal pinch of salt.
Chop the celery, carrot and onion into large pieces (so they're easier to remove from the cooked beans) and add them to the pot with the bay leaf. Bring to a boil and immediately reduce to a simmer and cook for 25-30 minutes, or until beans are tender.
Remove the celery, carrot and onion and allow the beans to cool in the liquid.
Mix together the coffee, chili powder and salt in a small bowl. Allow the lamb rack to come to room temperature before seasoning with the coffee/spice blend.
Bring a cast iron pan with a drizzle of EVOO up to high heat and sear the lamb on both sides. Place the seared lamb, fat side down, in the pan and transfer to the oven to continue to cook for 8-12 minutes, or until desired internal temperature is achieved.
While the lamb is cooking, warm the beans in a bit of their own liquid. To the simmering beans, stir in the butter, lemon zest, lemon juice and fresh parsley. Season with salt to taste.
Allow the lamb to rest before slicing and serving on top of the herbed beans.
Take a look at our recommended wine pairing for this recipe below.
Pairing Recommendations - Red Blend