Blue Cheese Chips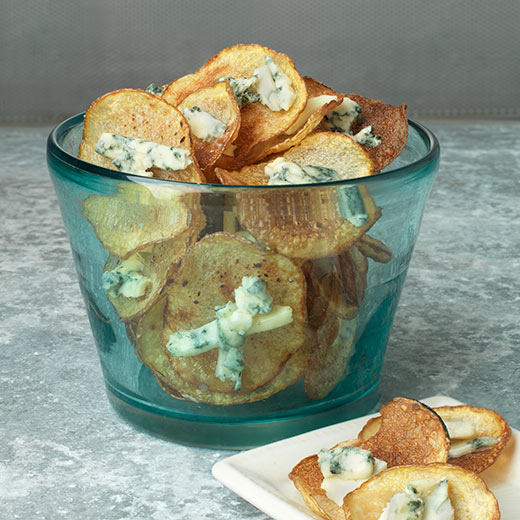 Yield: 6 servings as appetizer
Prep: 10 minutes | Cook: 20 minutes
Total Time: 30 minutes
A game day favorite! These blue cheese chips are bold and everything you need to celebrate the win.
Ingredients
1 cup Blue cheese such as Rogue blue, Stilton
2 medium size russet potatoes, scrubbed and skin on
8 cups of frying oil canola
½ cup white distilled vinegar
1 cup salt
Water
Optional Garnishes/Accompaniments:
Fleur de sel, Mayonnaise, Bacon, Sliced green onion
Preparation
Preheat oven to 400 degrees.
Place blue cheese in between two pieces of parchment paper. Using a wine bottle or a rolling pin gently roll the cheese in between the paper to spread it out and increase the surface area. Place on a plate or sheet pan and put it in the freezer.
Using a mandolin or a very sharp knife slice russet potatoes. Place in a bowl with cold water. Allow slices to soak, for 5 minutes, drain, rinse, add more cold water and repeat. Potato starch will leach out into the water. Slices can be stored/prepared a few hours in advance.
In a 2 quarts stock pot, make a quick brine, bring 1 quart of water to a boil with the vinegar and salt. Boil for a few minutes.
Drain potato slices into a large bowl. Gently pour hot/warm brine, over slices stirring the potato slices in the brine for 2-3 minutes. Be careful not to break the potatoes.
Lay the potato sliced out on parchment paper or paper towel and allow to fully cool. Blot excess water away with paper towel. Slices will be delicate but should hold their shape.
Pour the oil into a large enough pot to hold the 2 quarts of oil leaving at least half of the pot space open for frying. When the oil is ready for frying, test a piece of potato and it should bounce in the oil and sizzle. Oil should not smoke. Temperature should be between 325-350 degrees.
Working in batches drop the potato slices into the hot oil and fry. Using a wire spider or slotted metal spoon agitate the frying slices so that they fry evenly. Fry for about 2-4 minutes. Remove from oil and place on wire rack or paper towel lined tray/plate. Chips will be hot and continue to cook outside of frying oil. The finished chips should be light colored with slightly darker edges.
Arrange fully cooled chips on a foil lined sheet tray. Remove blue cheese from freezer and using a knife slice thin ribbons of blue cheese on a cutting board. Distribute the cheese over the potato chips and bake on lower rack of oven for 3-5 minutes.
Take a look at our recommended wine pairing for this recipe below.
Pairing Recommendations - Rosé