BBQ Chicken Flatbread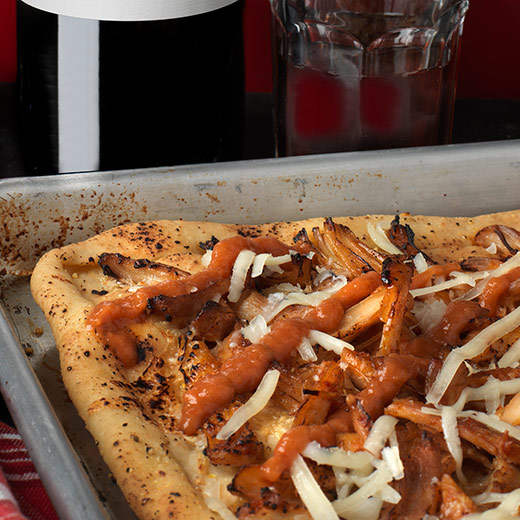 Yield: 6 servings as appetizer
Prep: 1 hour | Cook: 1 hour
Total Time: 2 hours
Perfect for your next date night, this BBQ Chicken flatbread is easy to assemble and tastes as if you got it from a restaurant!
Ingredients
BBQ Sauce:
2 yellow onions diced
3 tbsp Extra Virgin Olive Oil
1 Garlic clove, minced
½ cup Brown sugar
½ cup Hoison sauce
8 oz diced tomatoes
2 tbsp Dijon Mustard
2 tbsp Rice wine vinegar
2 tbsp Black pepper
2 tbsp Salt
Water as needed
Chicken:
4 Chicken thighs, boneless/ skinless
3 tbsp Canola Oil
1 Garlic Clove
1 tsp Chinese 5 spice
1 tbsp Salt
1 tsp Black pepper
2 tbsp Rice wine vinegar
½ cup Water or as needed depending on chicken size
Flatbread:
2 tsp Yeast
¾ cup Water, warm approximately 90 degrees
3 cup All Purpose Flour
1 tbsp Salt
4 tbsp Butter, unsalted Softened
Optional Garnishes:
Grated Cheddar Cheese, Sour Cream, Sliced Chives
Preparation
BBQ Sauce:
In a medium size saucepan add the onions, garlic and olive oil over medium heat, stirring gently with a spatula. Once the onions begin to brown, cover the pot and lower the heat for approximately 10 minutes. Remove the lid and the onions and garlic should be translucent.
Stir in all remaining ingredients and bring to a simmer for 5 minutes, stirring carefully to prevent scorching. Turn off the heat and carefully add the onion mixture to a blender.
Blend until smooth. Depending on the final product, water can be added to adjust thickness or if sauce appears to be too thin, place mixture back to pot and slowly simmer until the sauce starts to thicken.
Cool Sauce completely prior to assembling the flatbread.
Chicken:
In a medium bowl, rub the chicken with canola oil, garlic clove, Chinese 5 spice, salt and pepper.
Over low heat, sauté the chicken for about 4 minutes on each side Add the vinegar and water and bring to a boil. Cover and reduce heat to low and cook for 15-20 minutes.
Once fully cooked, remove chicken to a plate and throw away liquid. Carefully shred the meat and cool.
Once the meat is fully chilled, mix the shredded chicken with some BBQ sauce and season to taste. This step can be prepared 2 days in advance. See Flatbread for next Assembling/Baking steps.
Flatbread:
Preheat oven to 350 degrees
Bloom the yeast in warm water until fully dissolved.
In a mixer with a dough hook attachment, combine the flour, salt butter and yeast/water mixture. Mix until fully incorporated and smooth. Adjust flour/water as needed if dough appears too wet and/or too dry.
Cover in a stainless bowl with Saran Wrap for at least 1 hour in a warm area. This dough can be prepared 1 day in advance and kept in the refrigerator.
Once ready to roll, lightly flour work space and roll dough approximately 1/8" in thickness. Lightly fork the dough to prevent bubbles.
Top with BBQ Sauce and Chicken and bake for 20-25 minutes.
Take a look at our recommended wine pairing for this recipe below.
Pairing Recommendations - Red Blend