Spicy Tuna Rolls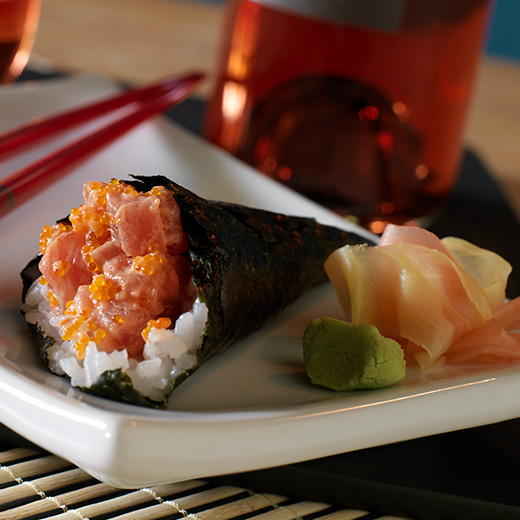 Yield: 4 servings
Prep: 25 minutes | Cook: 35 minutes
Total Time: 1 hour
Perfect for date night, enjoy this easy step by step homemade spicy tuna rolls. Making your own home sushi is fun and half the price of going out.
Ingredients
Sushi Rice:
3 cups Japanese rice
3 ¼ cups water
⅓ cup rice vinegar
1 tsp Salt
Spicy Tuna:
8 oz chopped sashimi grade tuna
5 tsp Tabiko
3 oz Japanese mayonnaise
1 oz Sriracha (spicy chili sauce)
To make the hand roll:
6 oz water
1 oz rice vinegar
Nori sheets
Sushi rice
Preparation
Sushi Rice:
Rinse rice until water is slightly cloudy (approx. 3 times). Soak rice in water 20 minutes before cooking. Steam rice until cooked (using rice steamer or on stove top).
Remove rice from cooker, place into large bowl (wooden bowl if you have one). Sprinkle vinegar (mixed with salt) over rice. Using a spatula, quickly fold vinegar into rice, being careful to not smash rice.
Note: To cool and quickly remove moisture from rice, use a fan as you mix the sushi rice. This also gives the rice a nice shiny appearance. It's best to use sushi rice right away.
Spicy Tuna:
Mix the Japanese mayonnaise and Sriracha in a bowl until completely blended.
In a separate bowl add mayonnaise/Sriracha mixture to remaining ingredients and blend together.
To make the hand roll:
Mix water and rice vinegar tezu together in small bowl. Use this for to rinse your hands so that rice does not stick to your hands while making the handrolls.
Place half a piece of Nori in one hand (probably left hand if you are right handed). Spread an even layer of rice over half the sheet. Place filling in the middle of the rice layer. Evenly roll into a cone.
Take a look at our recommended wine pairing for this recipe below.
Pairing Recommendations - Rosé