Seared Pork Tenderloin with Cocoa Spice Rub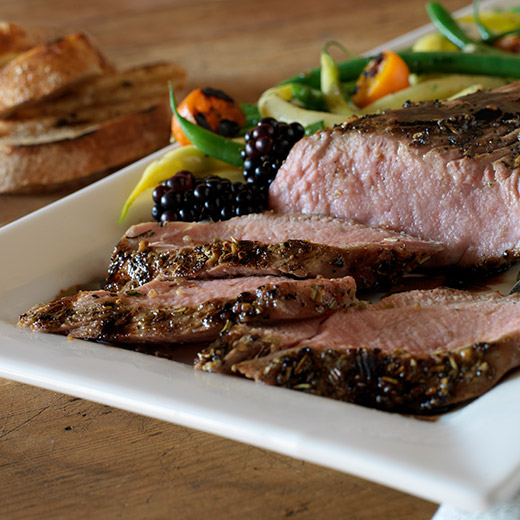 Yield: 8 servings
Prep: 10 minutes | Cook: 40 minutes
Total Time: 50 minutes
This seared pork tenderloin with cocoa spice rub makes the perfect dinner party dish. Serve with roasted garlic mashed potatoes and you have a meal that easy and delicious.
Ingredients
1 tbsp whole white peppercorns
1 tbsp whole coriander
4 ½ tbsp ground cinnamon
2 tsp ground nutmeg
1 tsp ground cloves
3 ½ tbsp unsweetened cocoa
4 tbsp sea salt, preferably NapaStyle Gray Salt
2 (2-lbs) boneless pork tenderloins
2 tbsp extra-virgin olive oil
Preparation
Preheat oven to 400 degrees
In a medium saucepan over medium heat, toast white peppercorns and coriander seeds until they begin to pop. Remove from heat and grind to fine powder in a spice mill or coffee grinder.
Mix the ground pepper and coriander with remaining spices, cocoa and salt.
Trim the pork tenderloins of fat and silver skin. Rub with a generous amount of the cocoa spice rub.
Heat the olive oil in a large sauté pan over medium high heat until hot but not smoking. Sear each tenderloin on all sides until a rich brown color, about 2 minutes on each side. Remove tenderloins from heat and finish in the oven for about 10 minutes or until cooked through.
Let the tenderloins rest out of the oven for at least 10 minutes before carving. Extra cocoa spice rub will keep in an airtight container for up to 3 months.
Serve
Serve with roasted garlic mashed potatoes.
Recipe Courtesy of: Michael Chiarello featuring culinary products from NapaStyle
Take a look at our recommended wine pairing for this recipe below.
Pairing Recommendations - Red Blend