Nachos with Brisket and Rancho Gordo Black Beans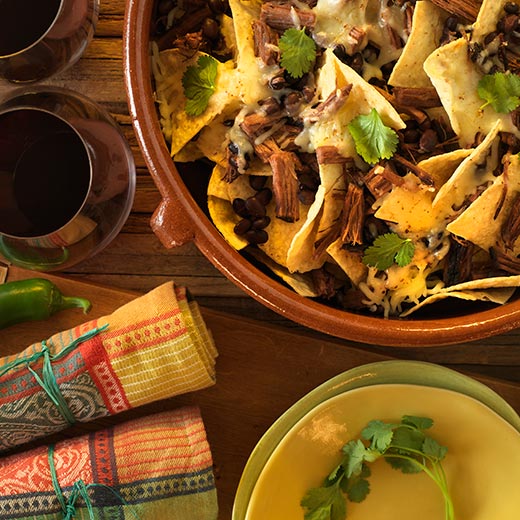 Yield: 6-8 servings
Prep: 10 minutes | Cook: 6 hours
Total Time: 6 hours and 10 minutes
If you want a nacho recipe that will not disappoint look no further. Shredded brisket with Rancho Gordo black beans makes these nachos a winner for any game day party.
Ingredients
Brisket:
2 lbs piece of beef brisket
2 tsp coarse salt
1 tsp fresh ground pepper
1 tbsp grape seed oil
½ cup onions, small diced
¼ cup carrots, small diced
¼ cup celery, small diced
2 garlic cloves
1 qt beef stock
1 dried ancho pepper, toasted and de-seeded
½ cup instant coffee
Black Beans:
1 cup dried Rancho Gordo black beans
¼ cup onion, minced
¼ cup poblano pepper small diced
1 tsp garlic, minced
1 tsp Mexican oregano
1 bay leaf salt and black pepper
4 cups nacho chips
2 cups grated jack cheese
2 tbsp fresh cilantro leaves
Preparation
Brisket:
Preheat the oven to 375°F
Season the brisket on both sides with salt and pepper.
In a deep-sided sauté pan over high heat sear the brisket on all sides until browned well.
Add the onions, carrots, celery and garlic. Cook for 2 more minutes.
Add the beef stock, ancho and instant coffee. Cover and place in the oven to roast for 4 hours. Remove and allow the meat to rest for 30 minutes in the braising liquid.
Black Beans:
Cover the beans with cold water and soak for 4 hours. Drain the water, place the beans in a medium pot and cover with 3 cups of water. Bring to a simmer and remove any foam with a spoon.
Cook for 30 minutes then add the onions, peppers, garlic, oregano and bay leaf.
Cook for 1 hour more or until the beans are tender. Season the beans with salt and pepper and reserve.
Serve
Preheat the broiler. Remove the brisket from the pan and dice the meat into small bite-sized pieces. Add the meat to the beans and stir well.
Place the nacho on a large platter, cover with the brisket beans. Top with the cheese and place under the broiler for 5 minutes until cheese has melted.
Garnish with fresh cilantro and serve.
Take a look at our recommended wine pairing for this recipe below.
Pairing Recommendations - Red Blend