Mini Duck Burgers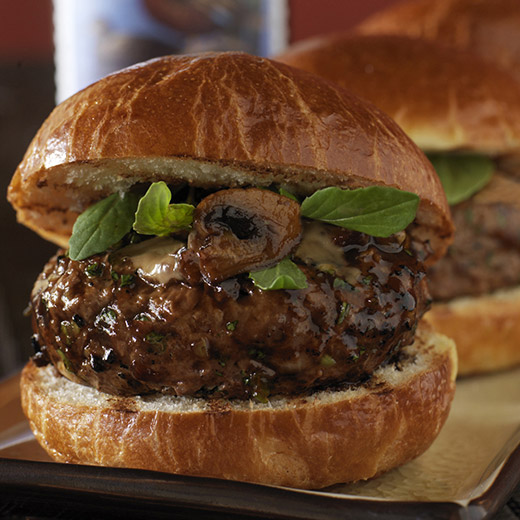 Yield: 6-8 servings (makes 16)
Prep: 1 hour | Cook: 10 minutes
Total Time: 1 hour and 10 minutes
Mini-burgers are fun especially when you take them to the next level by making them with duck. These burgers are juicy and make a great addition to your summer BBQs.
Ingredients
Burgers:
1 lb ground duck
1 scallion, white and a bit of the tender green, minced
1 tsp peeled grated fresh ginger
1 ½ tsps minced garlic
1 Tbsp Mongolian Marinade
1 tsp salt
¼ tsp freshly ground black pepper
Additional Mongolian Marinade, for basting
16 small sesame brioche buns, split
1 to 2 Tbsps butter
Shiitake Mushroom Ketchup
2 cups arugula
Chinese-Style Mustard Sauce
Mongolian Marinade:
½ cup hoisin sauce
1 ½ tsps sugar
2 ¼ tsps tamari
2 ¼ tsps sherry vinegar
2 ¼ tsps rice vinegar
1 to 2 scallions, white and light green parts only, minced
½ tsp Tobasco sauce
¾ tsp black bean chili sauce or hot garlic sauce
2 ¼ tsps minced garlic
¼ to ½ tsp freshly ground white pepper
2 Tbsps minced cilantro leaves and tender stems
1 ½ tsps sesame oil
Shiitake Mushroom Ketchup:
2 to 3 Tbsps olive oil
1 lb shiitake mushrooms, stemmed and quartered
1 onion, finely diced
½ tsp salt
½ tsp freshly ground black pepper
¼ cup balsamic vinegar
2 tsps minced garlic
2 Tbsps molasses
¼ bunch basil leaves, chopped
¼ cup Mongolian Marinade
Chinese-Style Mustard Sauce:
¼ cup sugar
2 Tbsps Colman's mustard powder
1 large egg yolk
¼ cup red wine vinegar
6 Tbsps crème fraîche or sour cream
Preparation
Combine all ingredients to make the mongolian marinade, shiitake mushroom ketchup and chinese-style mustard sauce.
Combine all the duck burger ingredients and mix well. Cover and chill for at least 1 hour and up to overnight.
Portion the chilled duck mixture out into 2-ounce (¼ cup) mini patties.
Grill or griddle the patties to order over medium-high heat 2-3 minutes per side, basting with the Mongolian marinade.
Lightly butter and toast the buns.
Place the burgers on the bun bottoms, and top each with some shiitake mushroom ketchup, arugula, and a drizzle of chinese-style mustard sauce.
Serve
Close off the sandwiches and serve with extra mustard and ketchup on the side.
Take a look at our recommended wine pairing for this recipe below.
Pairing Recommendations - Red Blend