Big Bold Beef Chili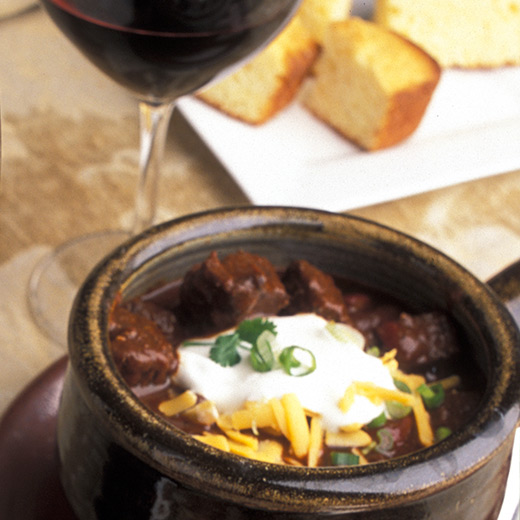 Yield: 8 servings
Prep: 10 minutes | Cook: 4 hours and 30 minutes
Total Time: 4 hours and 40 minutes
Ingredients
2 Tbsps vegetable oil
4 lbs beef chuck or sirloin steak, cut into 1 in cubes
Kosher Salt
Freshly ground black pepper
2 medium yellow onions, diced
8 cloves garlic, minced
1 jalepeno, finely diced
1 bay leaf
¾ cup red chili powder
1 Tbsp ground cumin
2 Tbsps dried oregano
1 tsp cayenne pepper, or to taste
32 oz peeled, chopped tomatoes with their juice
2 cups good quality red wine, such as zinfandel or cabernet sauvignon
1 38 oz canned red kidney beans, rinsed
1 15 oz canned black beans, rinsed
1 15 oz canned pinto beans, rinsed
1 ½ cups chicken broth, homemade or low-sodium canned
Grated cheddar cheese
Sour cream
Sliced green onions
Chopped fresh cilantro
Preparation
Heat the oil in a large, heavy bottom pot over medium-high heat.
Season beef cubes generously with salt and pepper. Sear the meat in small batches, until well browned on all sides. (Add more oil to the pan if necessary.) Transfer meat to a bowl and reserve.
Discard all but 2 Tbsp of oil from the pan. Saute the onions over medium heat for about 10 minutes until softened. Scrape up any browned bits from the bottom of pan with a wooden spoon.
Add the garlic, jalapeno and bay leaf and saute for another 2 minutes. Stir in chili powder, cumin, oregano and cayenne. Stir in tomatoes, wine and the broth.
Add meat with any accumulated juices to the pot. Bring to a gentle simmer.
Season the chili with salt and pepper to taste and stew the meat with the lid slightly ajar until the meat is almost tender, about 3 hours.
Add the beans to the chili. Simmer for 1 hour more or until the meat is tender.
Season with salt and pepper to taste, and offer a selection of condiments like grated cheddar cheese, sour cream, chopped fresh cilantro and chopped green onions.
Serve
Serve with warm cornbread and a mixed green salad with buttermilk dressing.
Take a look at our recommended wine pairing for this recipe below.
Pairing Recommendations - Red Blend