Roast Leg of Lamb with a Pistachio Mint Crust & Roasted Fingerling Potatoes with Sweet Onions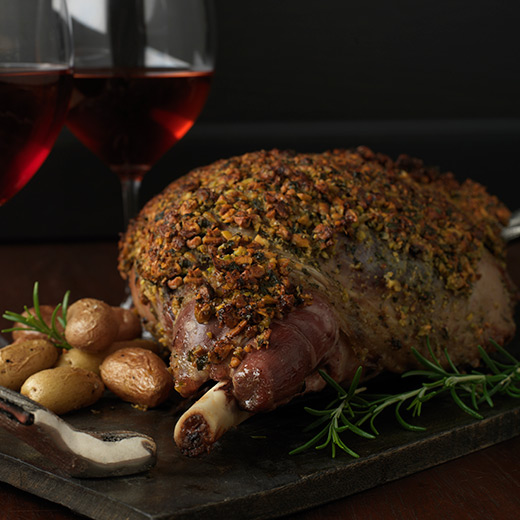 Yield: 6-8 servings
Prep: 1 hour | Cook: 1 hour and 20 minutes
Total Time: 2 hours and 20 minutes
Cooking lamb can be intimidating, but this recipe makes it look simple. Impress all your dinner party gest with this roasted leg of lamb with a pistachio mint crust and roasted fingerling potatoes with sweet onions.
Ingredients
Leg of Lamb:
1 (5-6 lbs) Leg of Lamb bone-in
Pistachio Crust:
2 cups pistachios chopped
½ cup mint chopped
5-6 Garlic cloves chopped
2 Limes, juiced and zested
½ cup olive oil
2 tbsp Coarse salt
1 tbsp Ground black pepper
Fingerling Potatoes:
2 lbs Fingerling Potatoes
1 Sweet onion cut into small wedges
3-4 Stems fresh Rosemary
Parsley Mint Sauce:
1 cup fresh parsley leaves
¼-½ cup fresh mint leaves (depending on desired mint flavor)
1-2 tbsp Fresh lemon juice
1 tsp honey
¼ cup extra-virgin olive oil
Pinch of salt to taste
1 tbsp water
Preparation
Preheat oven to 325 degrees
Combine above ingredients for pistachio crust into a chunky paste in bowl and set aside.
Prepare Leg of Lamb in roasting pan and rub thoroughly with pistachio crust. Let lamb rest at least 30 minutes-1 hour to come to room temperature.
Roast Lamb about 17-20 minutes per pound, until internal temperature of meat is between 130-145 degrees.
Rub potatoes and onions with olive oil and salt and pepper roast at 400 for about 20 minutes, then add rosemary and toss and continue to cook for another 20 minutes until done.
While cooking, combine all ingredients for parsley mint sauce in a food processor and process until blended. Serve sauce along side prepared lamb.
Take a look at our recommended wine pairing for this recipe below.
Pairing Recommendations - Red Blend