Gougères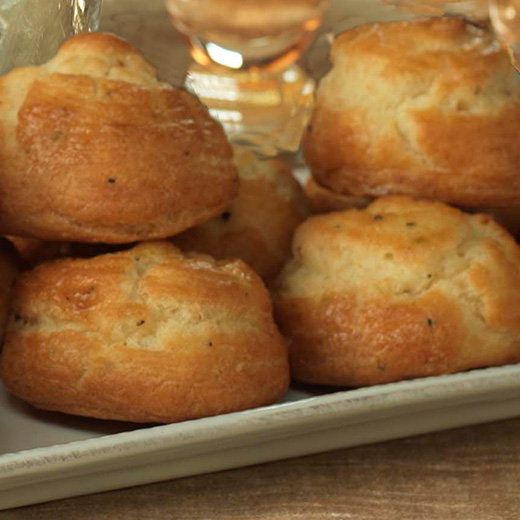 Yield: 24 servings
Prep: 5 minutes | Cook: 20 minutes
Total Time: 25 minutes
This recipe is a favorite! From the French cuisine, Gougères are savory cheese puffs that are sure to impress and make the perfect bite-size appetizers.
Ingredients
1 cup Water
3 oz Butter
1 tsp Salt
¼ tsp Black Pepper
1 cup All Purpose Flour
3 Eggs
1 cup Aged Gruyere, Sharp Cheddar or Gouda
½ cup Grated Parmesan
1 tsp fresh Rosemary, finely chopped
½ tsp fresh Thyme, finely chopped
Preparation
Preheat oven to 400 degrees
Combine the water, butter, salt and pepper in a medium saucepan and bring just to a boil.
Add the flour and place over low heat. Stir with a wooden spoon until the mixture starts to pull away from the pan and has a glistened look (about 1-2 minutes).
Transfer the batter into a mixing bowl with a paddle attachment. Whip the eggs one by one until all eggs are incorporated, then add the cheese and herbs and mix until thoroughly combined, (approximately 3-5 minutes).
Pipe dough onto parchment lined sheet pan (or spoon is fine as well).
Gougères are best made in advance and frozen. Fresh or frozen, bake for 10-12 minutes until golden brown. Do not open the oven while they are baking or else they will fall. Serve warm.
Hint: When the gougeres become fragrant, filling the room with the aroma of cheese and herbs, they are 3-5 minutes away from being done.
Take a look at our recommended wine pairing for this recipe below.
Pairing Recommendations - Red Blend